Wind Instrument Connections 
REPAIR  •  EDUCATE  •  CONNECT
connectING musicians with
SPEEDY, QUALITY REPAIRS

INSTRUMENTS, ACCESSORIES, AND SUPPLIES

TIPS AND EDUCATIONAL SUPPORT 
Repair
Whether you need it right now, overnight, or next month, professionals, school districts, and casual players are guaranteed satisfaction and always get their instruments back when they need them.
Educate
Webinars, live presentations, and Youtube are some of the ways WIC helps educate teachers and students about the inner workings of their instruments and how to solve common problems.
Connect
Performers, instruments, teachers, accessories, parts, manufacturers, technicians, information…there's a lot of good stuff out there, and we can help connect you!
About WIC
WIC incorporated in 2008. A proud member of the National Association of Professional Band Instrument Repair Technicians (NAPBIRT), we are a full service band instrument repair facility on the West side of Lawrence, KS available 7 days a week by appointment.  Call or text anytime!
Band instrument repair
Cleaning and care demonstrations
DIY quick fixes tutorials
Consulting
Connecting with other fine stores and repair specialists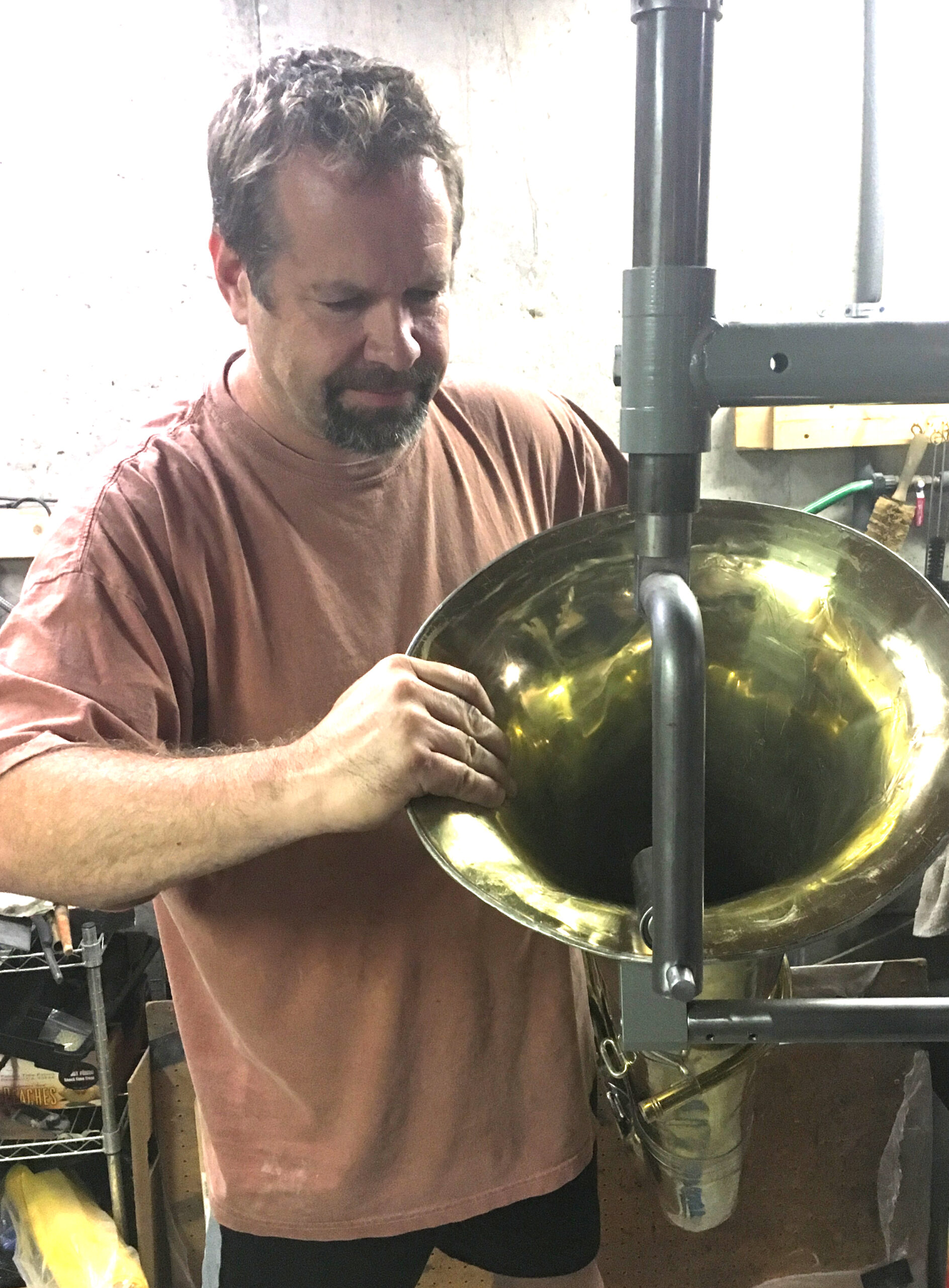 , KSWe are experienced
Paul Has Over 30 Years of Experience
in the Industry
Paul Morgenroth began formal instrument repair study under master technician Judi Dietz of Judi's Woodwind Shop (Leavenworth, KS) in 1990. Paul continued this training through completion of his music education degree from the University of Kansas in 1993 and on into his teaching career. In 2008, Paul joined the National Association of Professional Band Instrument Repair Technicians (NAPBIRT) and officially opened his own shop, Wind Instrument Connections. Enjoying two independently successful careers, he teaches band by day and repairs for clients 7 days a week by appointment. His presentation "Identifying and Performing Quick Fixes" was well received from band directors at the Kansas Music Educators convention. His presentation "Cleanliness and Sanitation" at the Kansas Bandmasters Association (KBA) earned a subsequent invitation to present at the next KBA this July. His new WIC YouTube channel provides brief instructional videos and tips to fix common small repair issues from a band director's perspective. Unique to the repair industry, Paul has developed WIC to offer education along with excellent repair service.
Gallery
Repads, Tenon Grafts, Tone Hole Replacements, Boot Rot Remediation, Dent Work, Key Modifications and Fabrication…
Dr. Stephanie Zelnick
"Paul has established himself as one of the most dynamic and versatile repair technicians in the area. I have trusted him with a number of jobs that were quite important and he consistently surpassed my already high expectations."
Stuart P. O'Neil
"Paul completes projects on a timely basis, charges a fair amount, and is extremely personable. I plan to continue taking business to him, and would readily recommend him to anyone else."
Keith Mallory
"His quality of workmanship is consistently superior to all others. Paul uses the finest products for all his repairs and offers options depending on our needs and varieties of instruments, from student model to professional model horns."
Vince Gnojek
Paul was thorough and knowledgeable, and he took the time to really figure out the problems. He used a couple of techniques that were new to me and he silenced the key clicks that were driving me crazy! I was not only pleased with his work, but I was excited about playing on my saxophone. I highly recommend Paul and his shop for repairs on woodwind and brass instruments.
Message Us
Get In touch below. Ask Any Question or Get a Free Quote
Shop Location
1621 East 686 Lawrence KS, 66049